Myth, mime and kung-fu blend in a bilingual celebration, writes JUDY ADAMSON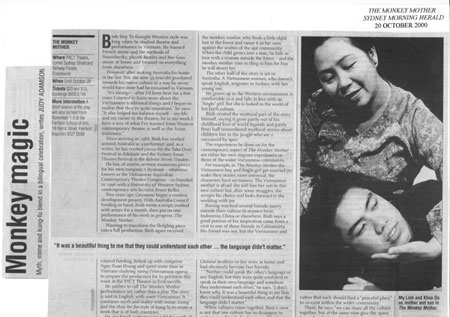 Binh Duy Ta thought Western style was king when he studies theatre and performance in Vietnam. he learned French mime and the method of Staniskavsky, play Beatles and Bee Gees music at home and focused in everything elsewhere.
However, after making Australia his home in the late '80s, the now 35-year-old gravitated towards his native culture in a way he never would have done had he remained in Vietnam.
"It's strange - after I'd been here for a few years I started to learn more about the Vietnamese traditional things and I began to realise that they are quite important," he says. "It also helped me balance myself - my life and my career in the theatre. So in my work I have mix of what I've learned from Western contemporary theatre as well as the Asian traditions."
Since arriving in 1988, Binh has worked around Australia as a performer; and, as a writer, he has created pieces for the Take Over Festival in Adelaide and the Sydney Asian Theatre Festival at the Belvoir Street Theatre.
He has, of course, written numerous pieces for his own company, Citymoon - otherwise known as the Vietnamese Australian Contemporary Theatre Company - co founded in 1996 with a University of Western Sydney, Bruce Keller.
Two years ago, Citymoon began a creative development project. With Australia Council funding in hand, Binh wrote a script, worked with actors for a month, then put on one performance of his work in progress, The Monkey Mother.
Wanting to transform the fledging piece into a full production, Binh again received council funding, linked up with composer Ngoc-Tuan Hoang and spent some time in Vietnam studying tuong (Vietnamese opera) to prepare the production for its premiere this week at the PACT Theatre in Erskineville.
He prefers to call The Monkey Mother performance art, rather than a play. The story is told in English with some Vietnamese. it combines myth and reality with mime, tuong and the choy lee fut style of kung-fu to create a work that is of both countries.
On one hand, audiences are told the myth of the monkey mother, who finds a little child lost in the forest and raises it as her own against the wishes of the ape community. When the child grows into a man, he falls in love with a woman outside the forest - and the monkey mother tries to cling to him for fear he will desert her.
The other half of the story is set in Australia. A Vietnamese woman, who doesn't speak English, migrates to Sydney with her young son.
He grows up in the Western environment, is comfortable in it and falls in love with an "Anglo" girl. But she is locked in the world of her birth culture.
Binh created the mythical part of the story himself, saying it grew partly out of his childhood love of world legends and partly from half-remembered mythical stories about children lost in the jungle who were succoured by apes.
The experiences he drew on for the contemporary aspect of The Monkey Mother are either his own migrant experiences or those of the wider Vietnamese community.
For example, in The Monkey Mother the Vietnamese boy and Anglo girl get married (to make their stories more universal, the characters have no names). The Vietnamese mother is afraid she will lose her son to this new culture but, after some struggles, she accepts his choice and looks forward to the wedding joy.
Having watched several friends marry outside their culture to women from Indonesia, China or elsewhere, Binh says a good portion of his inspiration came for a visit to one of these friends in Cabramatta. His friend was out, but the Vietnamese and Chinese mothers-in-law were at home and had obviously become fast friends.
"Neither could speak the other's language or any English, but they were quite confident to speak in their own language and somehow they understood each other," he says. "I don't know why. It was a beautiful thing to me that they could understand each other, and that the language didn't matter."
When cultures come together, Binh's view is not that one culture has to disappear to make a new, blended culture is possible, but rather that each should find a "peaceful place" to co-exist within the wider community.
There, he says, "we can share all the culture together, but at the same time give the space for each culture to develop its own voice."