The wind is blowing through the desert
over the thrusting mountains
sunlight pierces the clouds
streaming down to the earth
The wind continues onwards
hearing the rooster's melancholy crow at noon
the mother's tired lullabies
for the recently departed?
wherever you are becomes your homeland
The Monkey Mother continues Citymoon's exploration of new movement vocabularies - drawing upon contemporary performance practice, mime, voice, martial arts, (especially kung fu) and traditional Vietnamese performance styles to create an exciting and dynamic production that celebrates new directions and new expression in contemporary intercultural performance.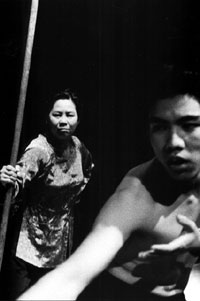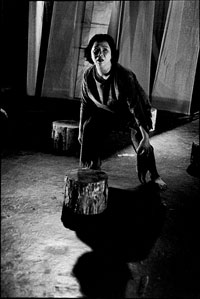 Citymoon (the Vietnamese Australian Contemporary Theatre Company) was established by Binh Duy Ta and Bruce Keller in 1996 to provide a cultural bridge between the Vietnamese and non-Vietnamese Australian communities. Citymoon's inaugural production Conversations with Charlie preimiered at Belvoir St Theatre in 1996 as part of the Sydney Asian Theatre Festival, and other contemporary performance works in development in clude The Three-Cornered Room, with Merlinda Bobis (1999), and Hip Hop Horse with Sawung Jabo and Morgan Lewis (2000).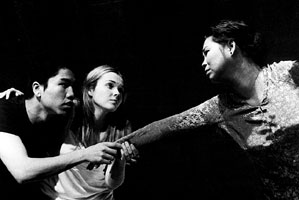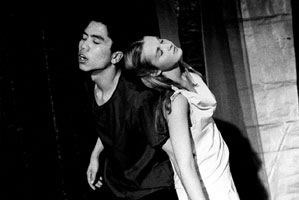 Writer/Director                                Binh Duy Ta
Cast                                                My Linh
                                                       Natalie Hankinson
                                                       Khoa Do
                                                       Hoang Ngoc-Tuan
Dramaturg                                       Bruce Keller
Composer                                       Hoang Ngoc-Tuan
Set Designer                                   Pierre Thibaudeau
Lighting Designer                            Richard Montgomery
Lighting Operator                            Phil Haywood
Photographer                                  Tiet Ho
Graphic Designer                             Thuy Cu
Custume Maker                               Tran Minh Huong
Publicist                                           Michaela Coventry
Audience Development Officer         Cuong Le
Video                                               Peter Oldham
Assistant to the Director                  Cilily Ponnor
Set Construction Assistant               Gary Manson
                                                         Phil Haywood
                                                         Tram Do